Blog — Project Feature – Thirty Anderson
Overlooking the treetops of the Royal Botanic Gardens, the Penthouse of Thirty Anderson is one of Melbourne's most unique and exclusive addresses.
Designed by Rob Mills Architecture (RMA), and commissioned by award-winning private property developer Sadikay, Thirty Anderson includes three whole-floor apartments, each with a unique perspective of the Royal Botanic Gardens.
In addition to the exquisite view, the Penthouse captures the space and light above with 4.5m high roof windows; natural light in abundance and views of the sky and passing clouds.
Together with RMA's vision and Sadikay's uncompromised attention to detail, Thirty Anderson responds to its location, with a calming design, graceful curves, expansive living spaces inside and out, all married together by sophisticated architecture.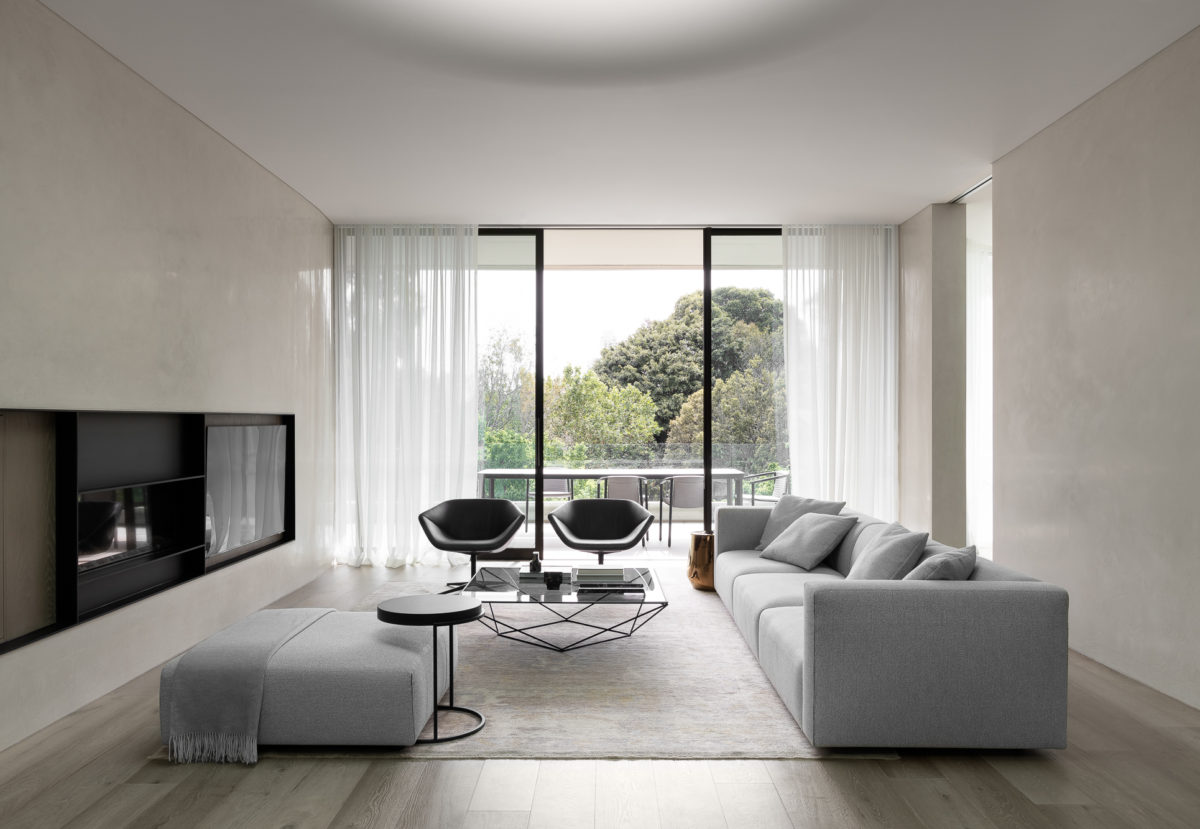 A family-owned and operated small business, the vision of Collective is to be a constantly evolving space and brand that stays true to its philosophy and love for design, the design industry and the people that make it up. The collaboration with Sadikay for Thirty Anderson encapsulates this philosophy and passion.
By understanding the project from the initial plans and then site visits during its construction, Collective and Sadikay selected timeless pieces to complement RMA's design.
Understated luxury and graceful curves as well as soft textures were essential in the selection from Collective's range of brands and designs.
Photography of Thirty Anderson beautifully captured by Timothy Kaye.
See below the list or products specified for the project:
– Prostoria Match Modular Sofa
– Prostoria Avet Coffee Table
– Montis Ella Armchair
– Pianca Servogiro Sidetable
– Pianca Haik Sidetable
– Pianca Confluence Dining Table
– Pianca Emi Chair
– Pianca Fushimi Console
– Prostoria Impression Armchair
– Prostoria Polygon Low Table
– Prostoria Monk Swivel Chair
– Grupa Baluna Floorlamp
– Grupa Baluna Table Lamp
– Atipico Kora Vase
– Pianca Rialto Bed
– Pianca Dedalo Drawer
– Pianca Piumotto Bed
– Pianca People Drawer
– Prostoria Kontrapunkt Armchair
– Todus Duct Chair
– Todus Condor Table